Mountain Alder Naturally-Arched Log Rustic Bedroom Collection
Naturally Arched King (or Cal King -4" longer & 4" less wide) Bed Was $1499
Now $1399
84 1/2" W x 88 1/2" L x 64" H*
Naturally Arched

Queen Bed Was $1399
Now $1199
67 1/2" W x 88 1/2" L x 64" H*

Naturally Arched

Full Bed Was $1299
Now $1149
62 1/2" W x 83 1/2" L x 64" H*
Naturally Arched

Twin Bed Was $1199
Now $1049
47 1/2" W x 83 1/2" L x 54" H*
Headboard Only is 60% of the cost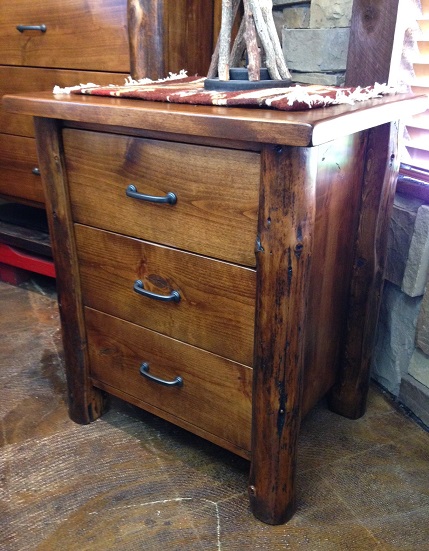 Mountain Alder Nightstand w/Log or Square Legs

24 L x 20 D x 30 H
As Shown - 3 Dwr
Was $749
Now $699
No Drw w/Shelf
Was $599
Now $539

1 Drw w/Shelf
Was $599
Now $549
Shown in Chestnut Finish--Add 5% for Stack and a Half Tops, Add 10% for Double Stacked Tops, add 5% for Chainsawed Tops and 5% for Chainsawed Legs. Add 15% for a Hand-Planed Top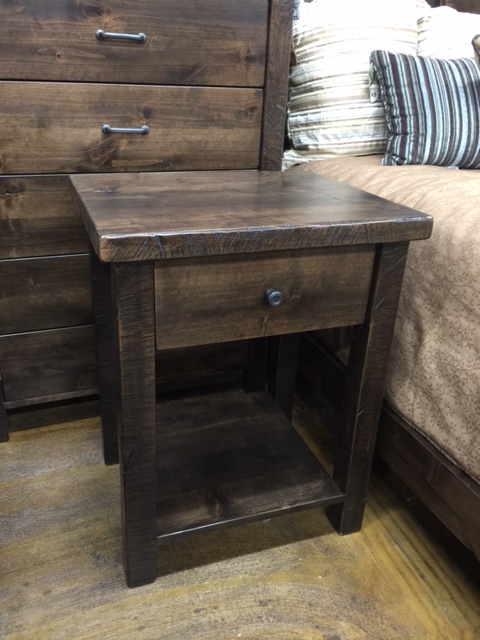 Nightstand with Stack and a Half Chainsawed Top and Sq Post Chainsawed Legs

24 L x 20 D x 30 H
As Shown 1 Drw w/Shelf
Was $699
Now $639

3 Drw
Was $849
Now $799
Shown in Dark Walnut Finish-
Add 15% for a Hand-Planed Top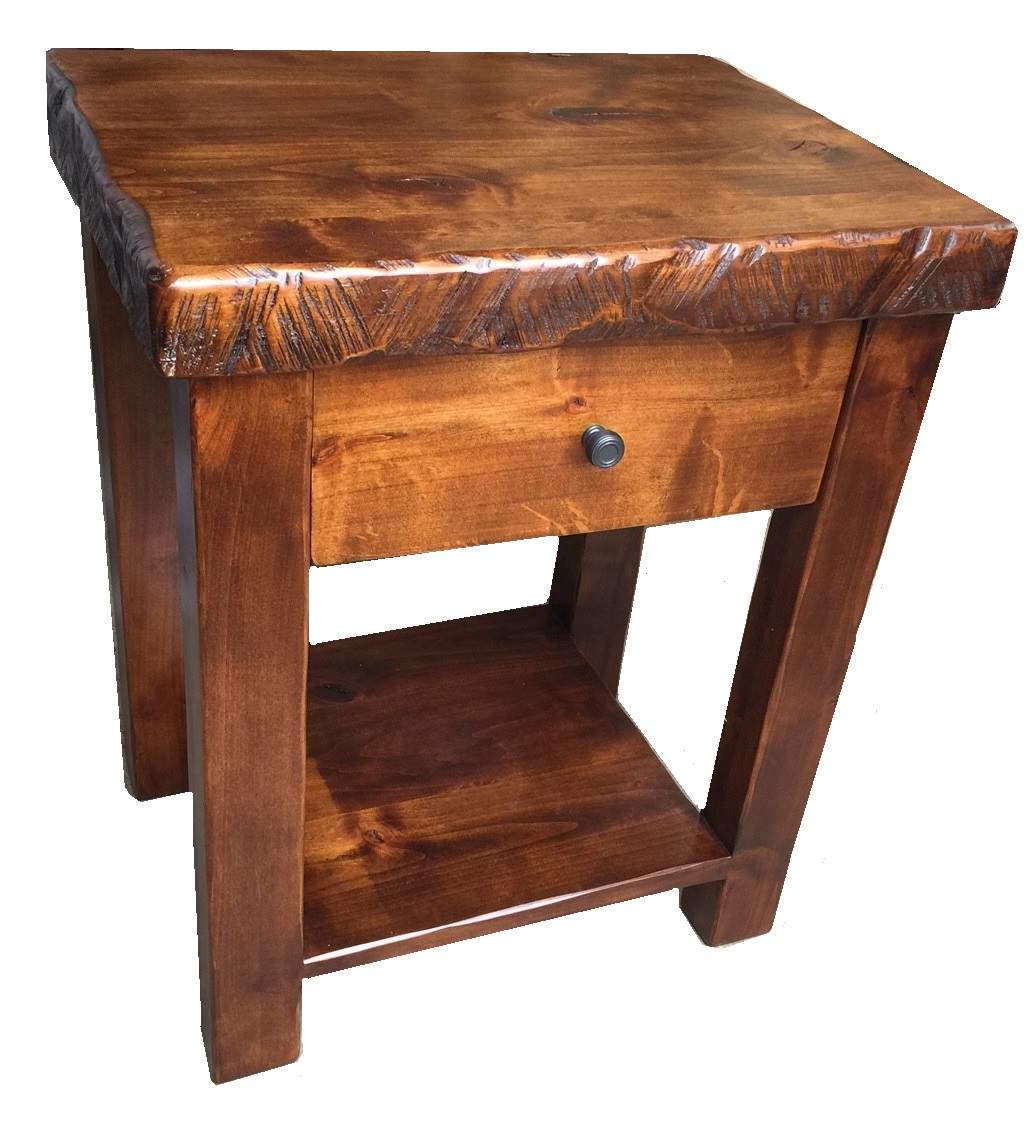 Nightstand w/Double Stack Chainsawed Top and Chunky Post Legs
26 L x 20 D x 30 H
As Shown -1 Dwr w/Shelf
Was $799
Now $649
3 Drw
Was $899
Now $849
Shown in Chestnut Finish
Add 10% for a Hand-Planed Top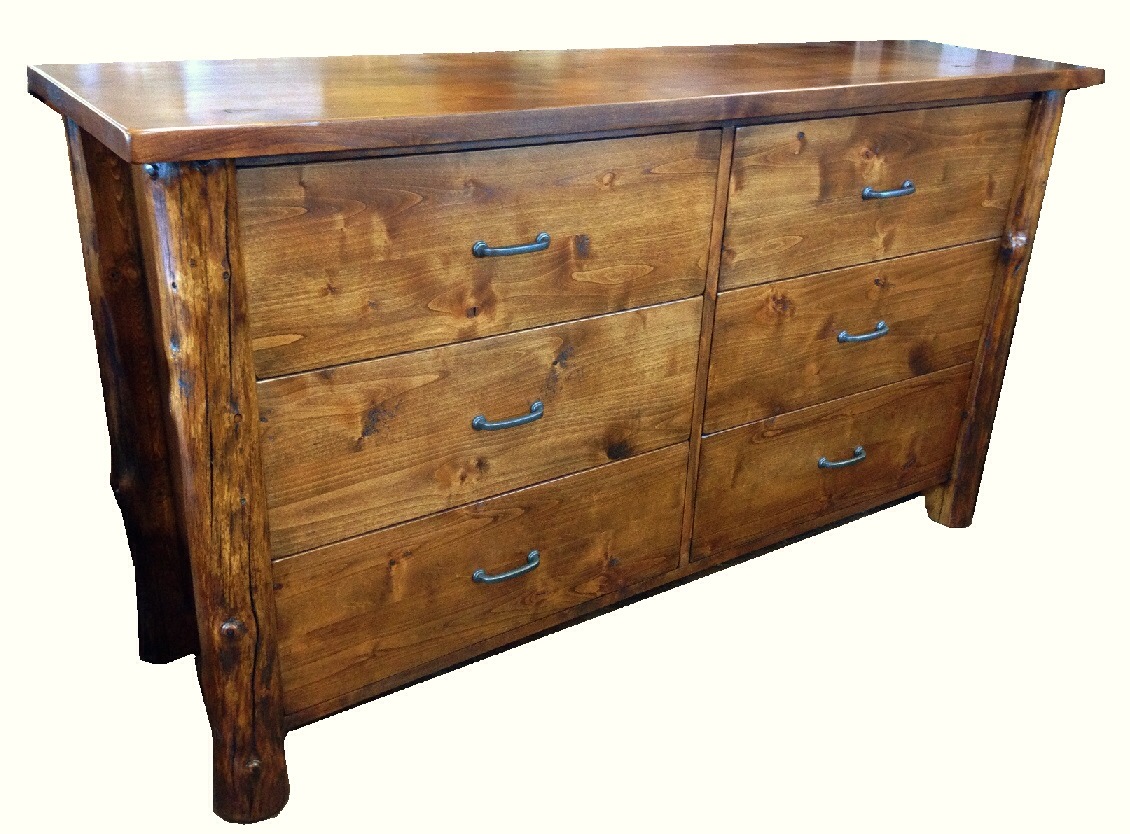 6 Drawer Log or Square Leg Dresser
Now $1399
64 L x 20 D x 36 H* Shown in Chestnut Finish
8 Drawer Log Dresser
64 L x 20 D x 42 H*
Now $1699
Shown in Chestnut Finish- Add 5% for Stack and a Half Tops, Add 10% for Double Stacked Tops, add 5% for Chainsawed Tops and 5% for Chainsawed Legs. Add 15% for a Hand-Planed Top
Log Dresser Mirror Was $599 Now $549
42 L x 30 H* Not Shown
Add 10% for Square Frame. Add 5% for Chainsawed Edges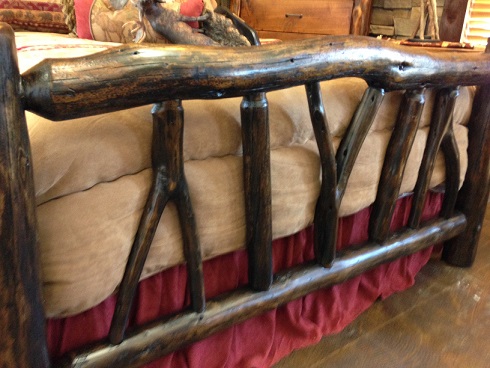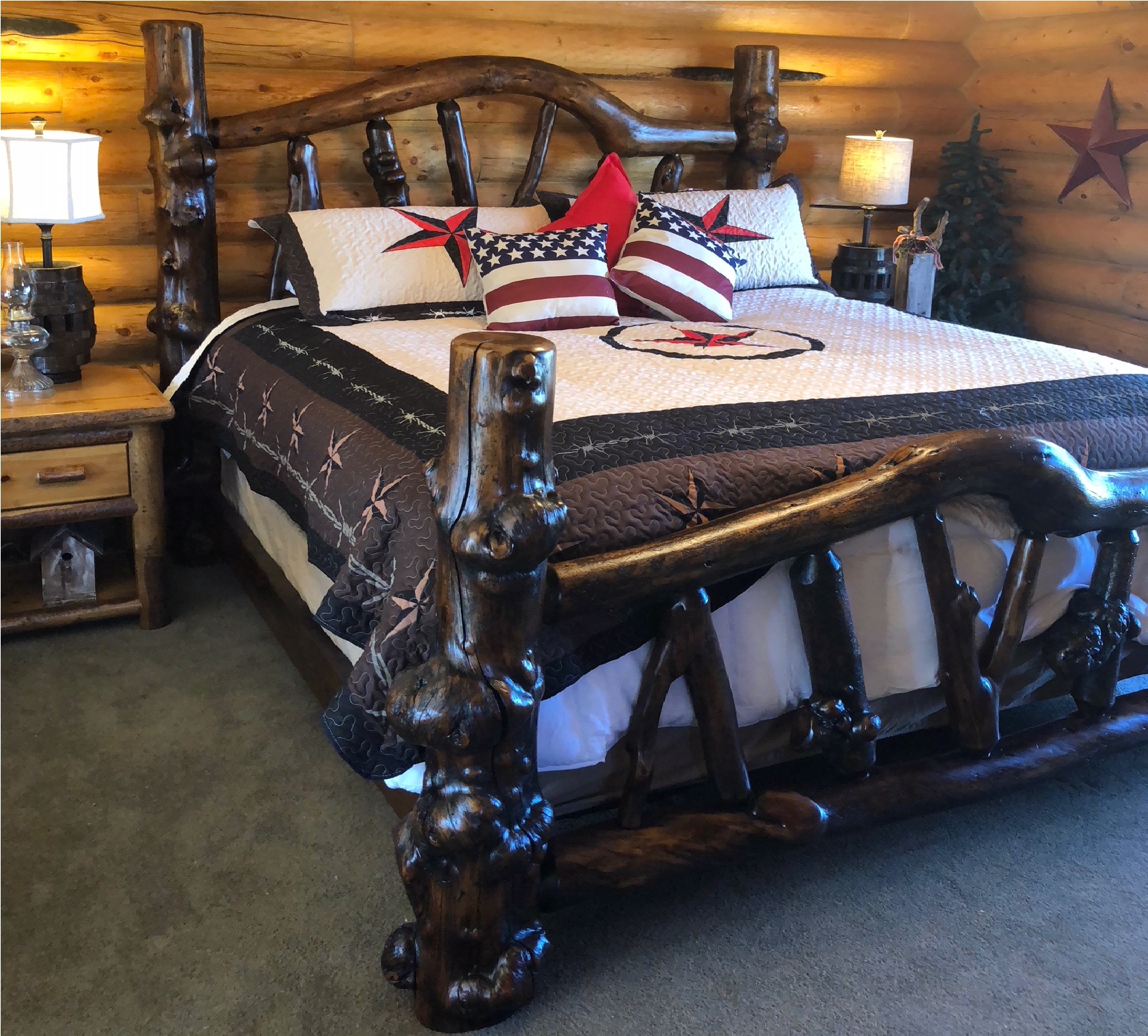 Avail. in an extreme burl finish for $800 more
Mountain Alder Panel Custom
Rustic Bedroom Collection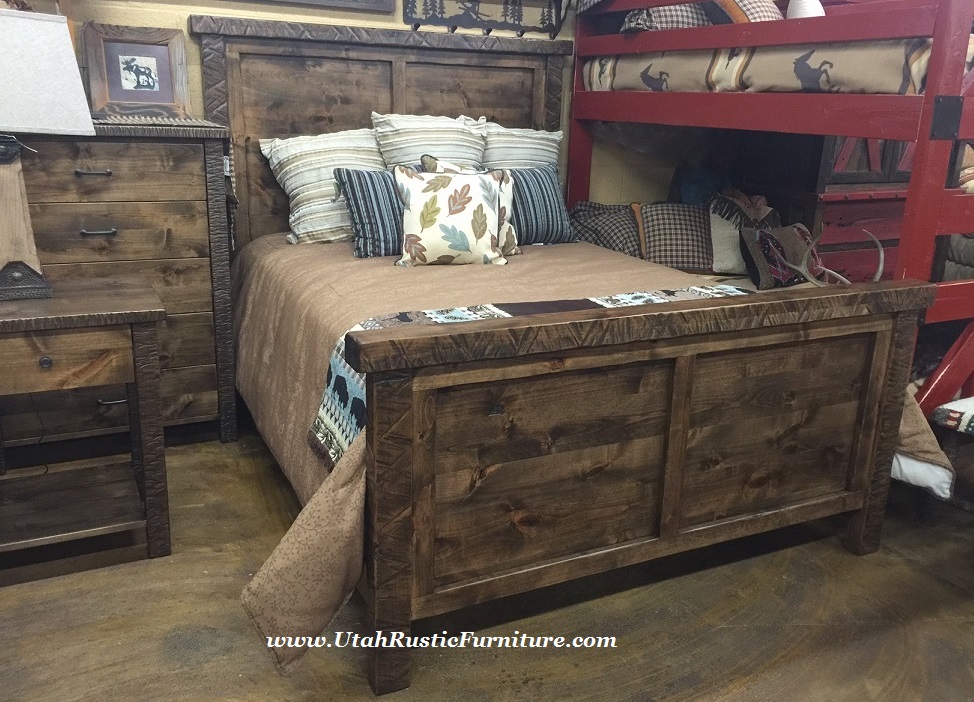 Click here to see different options in the same collection!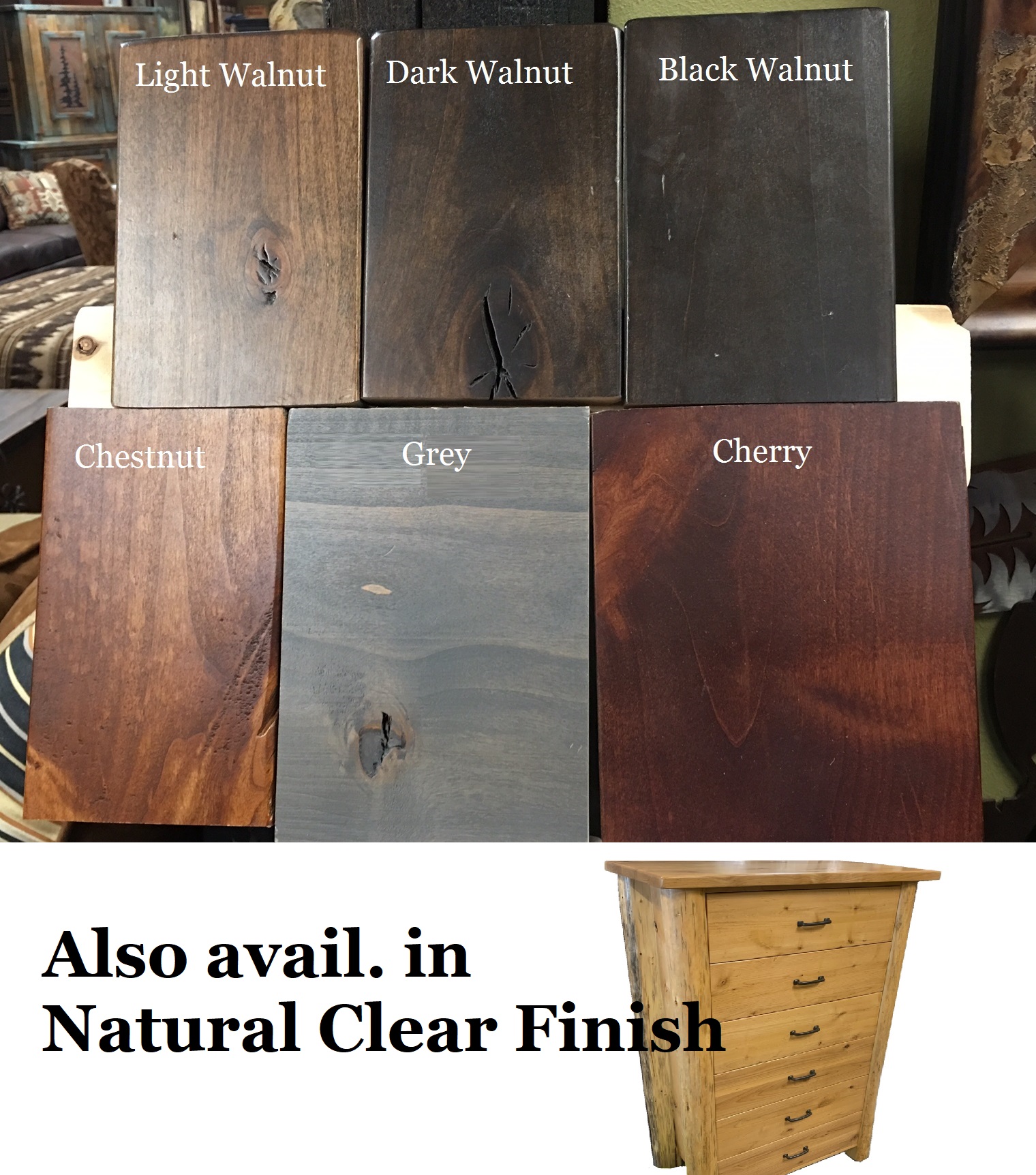 Mountain Alder Collection Features:
Features Distressed 100% Alder and Lodgepole Log Solids
Five-step Glaze and Lacquer finish.
Wood is hand finished with natural markings
Drawers feature 100% finished solid fronts and interiors.
Custom cast iron handles
Ball bearing metal glides on all drawers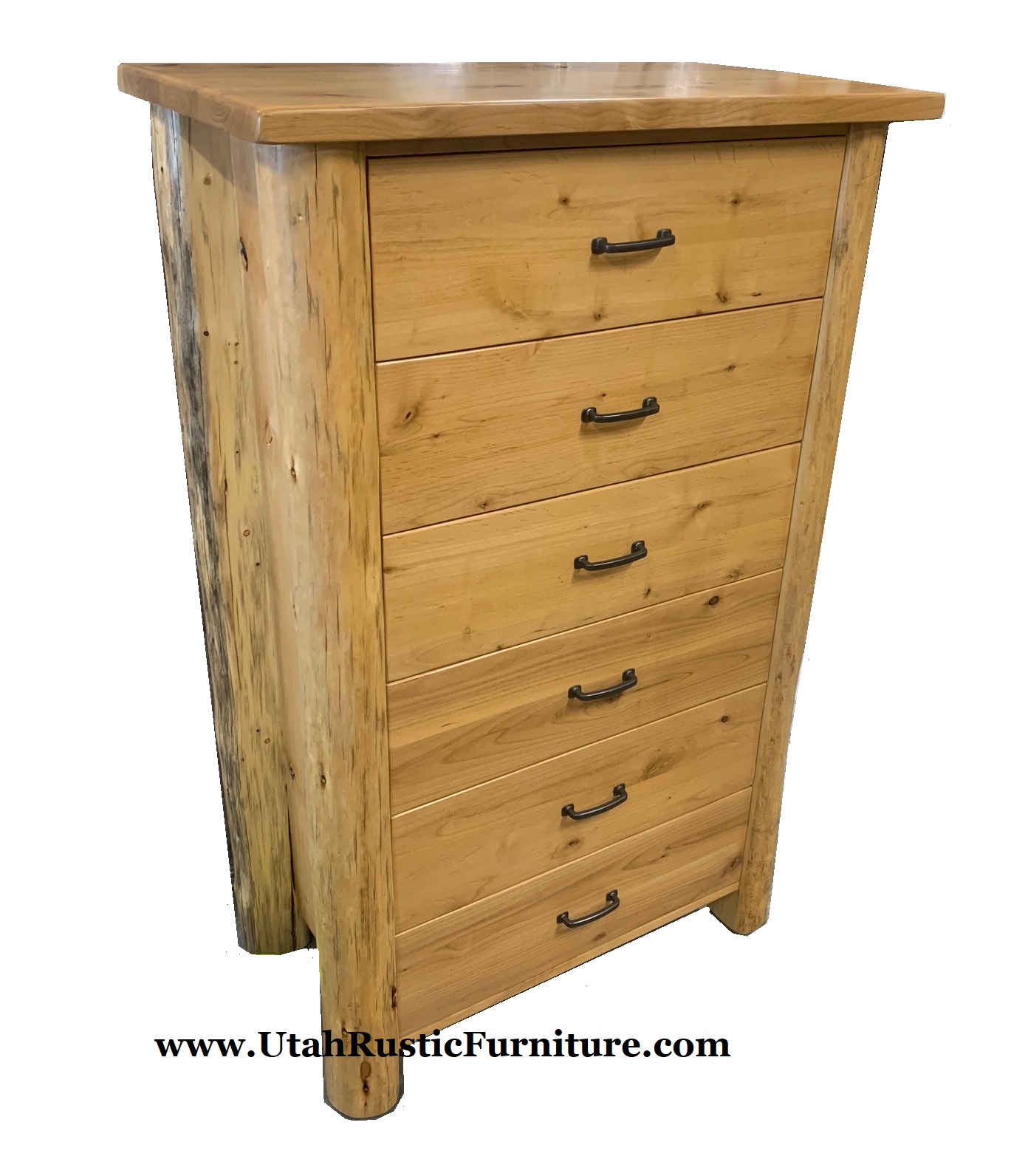 6 Dr Log or Square Leg Chest of Drawers
36 L x 20 D x 56 H* Shown in Clear Finish
5 Dr Log or Square Leg Chest of Drawers
36 L x 20 D x 48 H* Shown in Chestnut Finish
4 Drw Chest
Was $1249
Now $1099
36 L x 20 D x 40 H*-Add 5% for Stack and a Half Tops, Add 10% for Double Stacked Tops, add 5% for Chainsawed Tops and 5% for Chainsawed Legs. Add 15% for a Hand-Planed Top
Chest of Drawers Stack and a Half Chainsawed Top & Post Legs As Shown 5 Drw Chest
Now $1429
36 L x 20 D x 48 H*
4 Drw Chest
Now $1249
36 L x 20 D x 43 H*
Shown in Dark Walnut Finish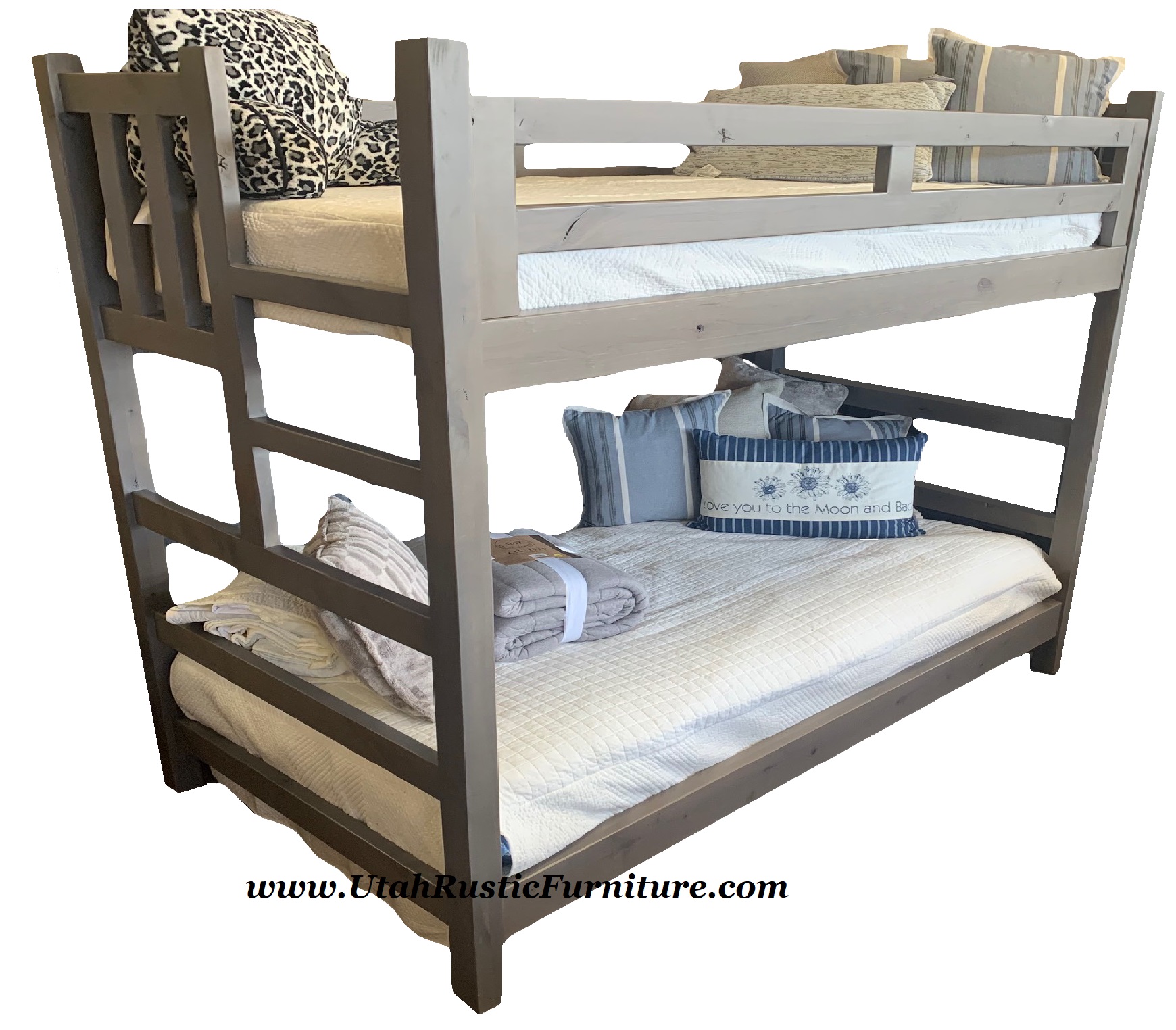 Mountain Alder Solid Wood Sq Post Tw
/
Tw Bunk
Shown in Warm Grey Stain
$1499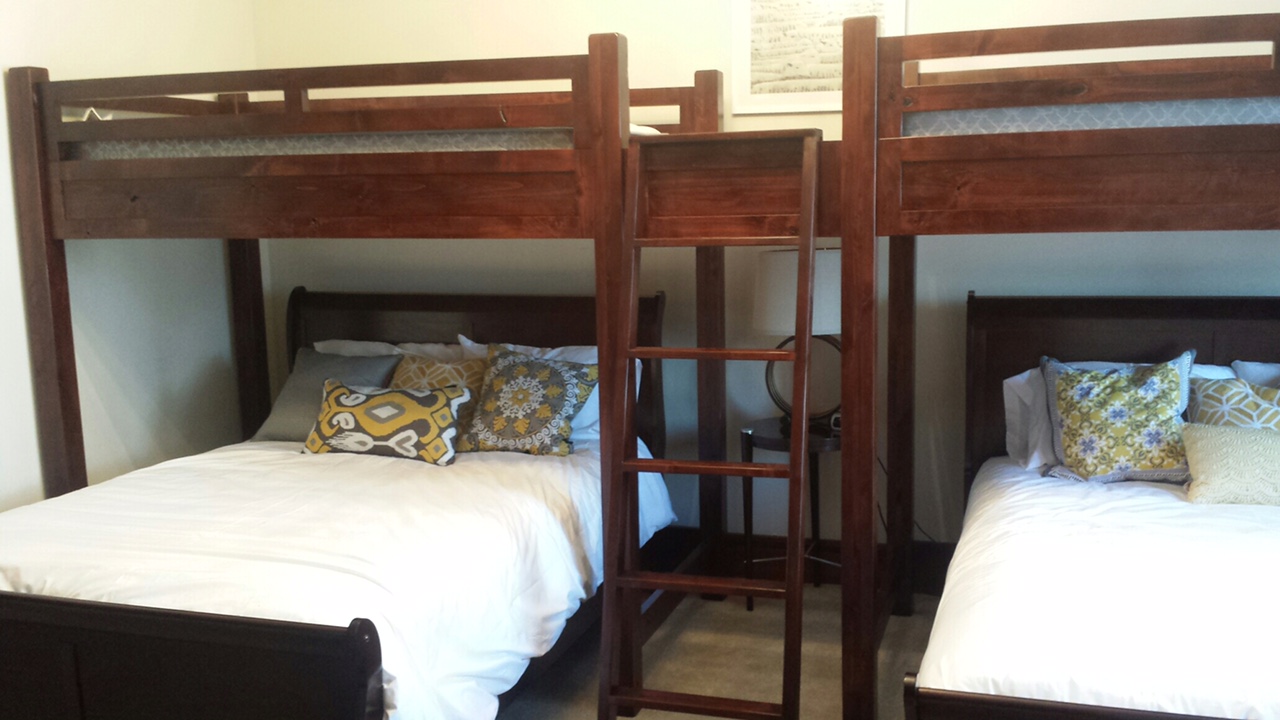 Custom Mountain Alder Post Option Solid Wood Twin Loft
Back-to-Back Bunks w/Bridge
Shown in Cherry Stain

Was $5299
Now $4999

63" W (Prior to adding Queen Beds underneath - Not Included in the price) x 200" L x 78" H*


*Dimensions are approximates. Please email or call a sales associate for package discount pricing and estimated ship times. All of our Alder furniture is 100% natural, and thus will have color variations. See our showroom in SLC for many of these pieces on display! This collection also features Bunk Beds, Occasional Tables, TV stands, and any other piece!