Artisan Solid Wood Kitchen and Bar Islands

Built from solid Pine or Tropical Hardwoods and built to withstand years of use

, a new kitchen island or bar will spice up your dining area with functional style! While these sets are special order, we try to keep one in at all times for display and should have a sample of all the finishes in our showroom.

Visit www.int-furndirect.com for alternative pictures and styles.

Contact us with questions or to check current showroom displays!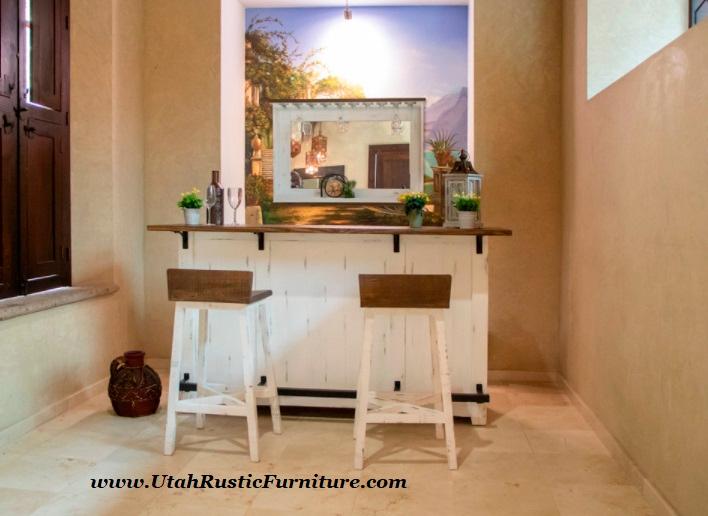 Artisan Solid Wood Kitchen Islands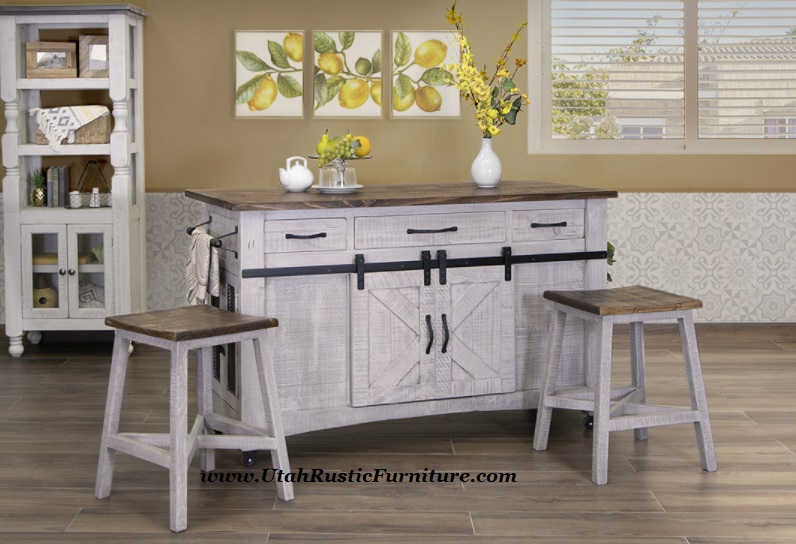 Pueblo Gray 3401 Kitchen Island
Island
59-3/4 x 30 x 35-1/4
*
$1399
Solid Wood Bar Chair
$199
Collection made of real wood rough sawn to Simulate Barnwood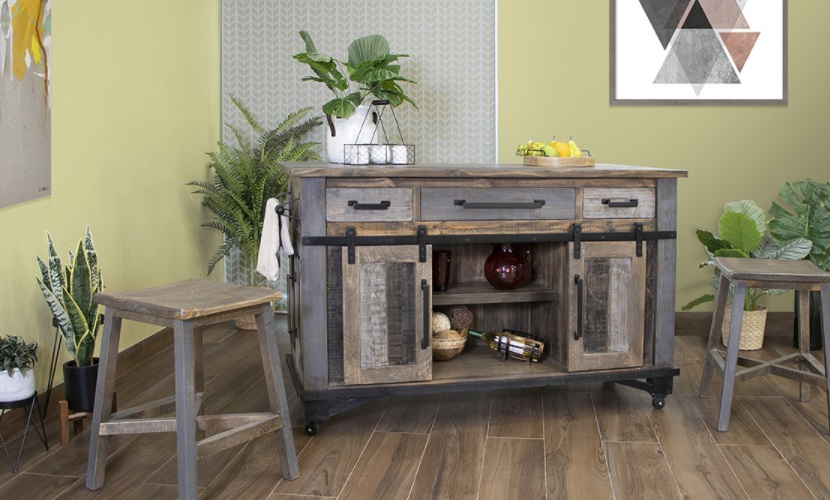 Brown Loft 6441 Kitchen Island
Island
59-3/4 x 30 x 35-1/4
*
$1399
Solid Wood Bar Chair
$199
Collection made of real wood rough sawn to Simulate Barnwood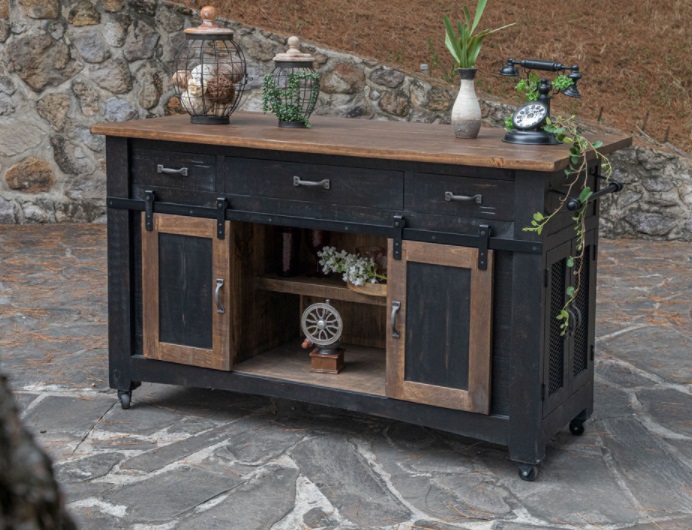 Pueblo Black 370 Kitchen Island
Island
59-3/4 x 30 x 36-1/4
*
$1399
Solid Wood
Half Back Bar Chair
$199
Collection made of real wood rough sawn to Simulate Barnwood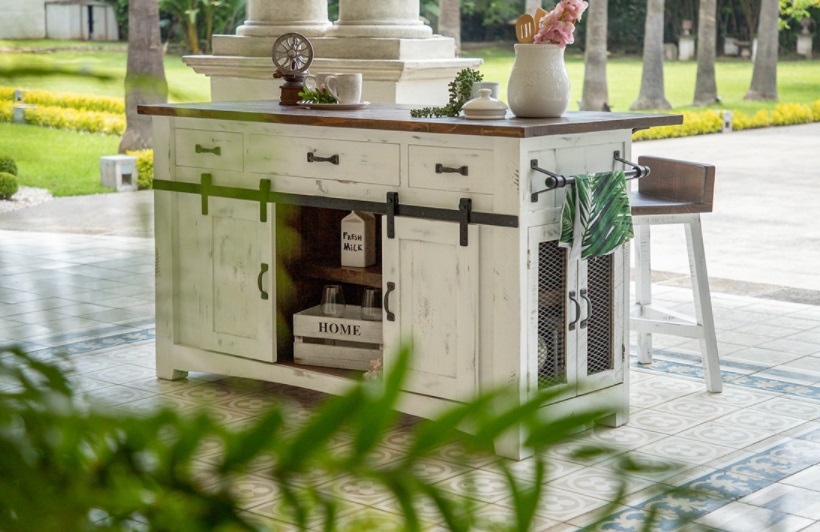 Pueblo White 360 Kitchen Island
Island
59-3/4 x 30 x 36-1/4
*
$1399
Solid Wood
Half Back Bar Chair
$199
Collection made of real wood rough sawn to Simulate Barnwood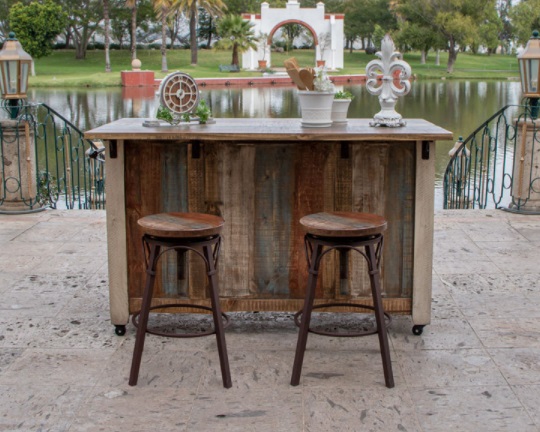 Multicolor 968 Antique Kitchen Island
Padded Swivel Bar Stool
$199

Collection made of real wood rough sawn to Simulate Barnwood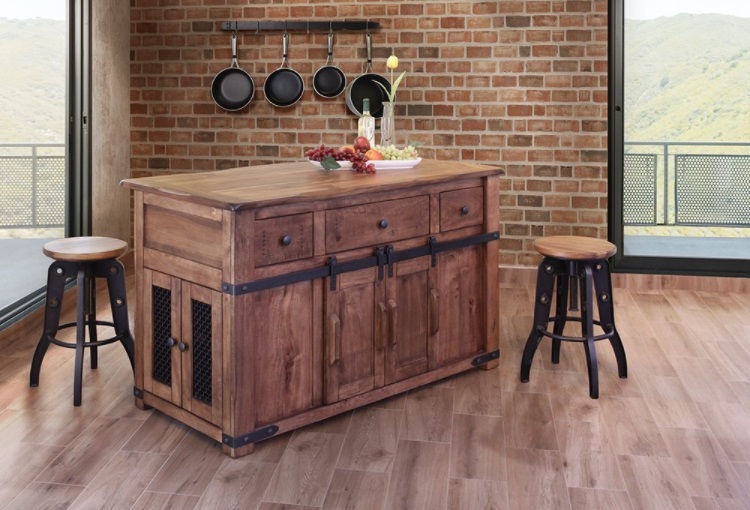 Parota 866 Antique Hardwood Kitchen Island
Island
59-3/4 x 30 x 35-1/4
*
$1549
Solid Wood and Metal Swivel
$249
Collection made of Hardwood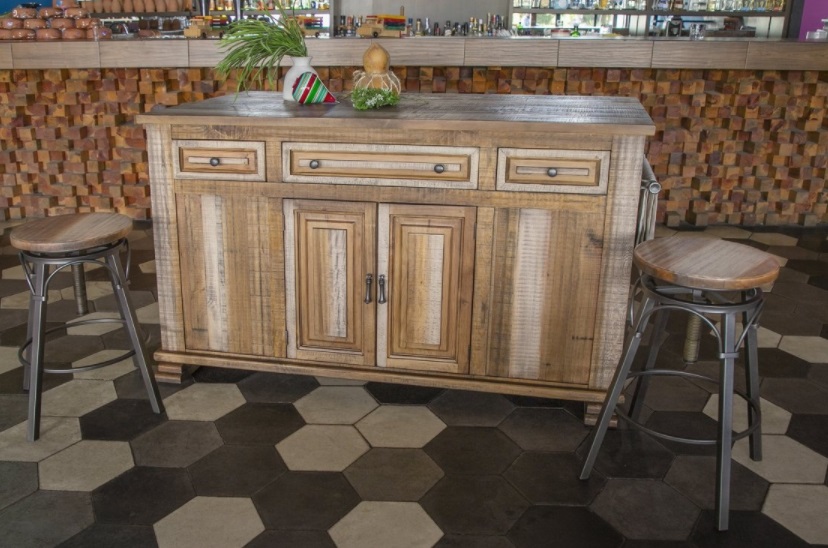 Marquez 4351 Kitchen Island
Island
61-3/4 x 31 x 37-1/4
*
$1399
Solid Wood and Metal Swivel Barstool
$229
Collection made of real wood rough sawn to Simulate Barnwood
Artisan Solid Wood Small Kitchen Islands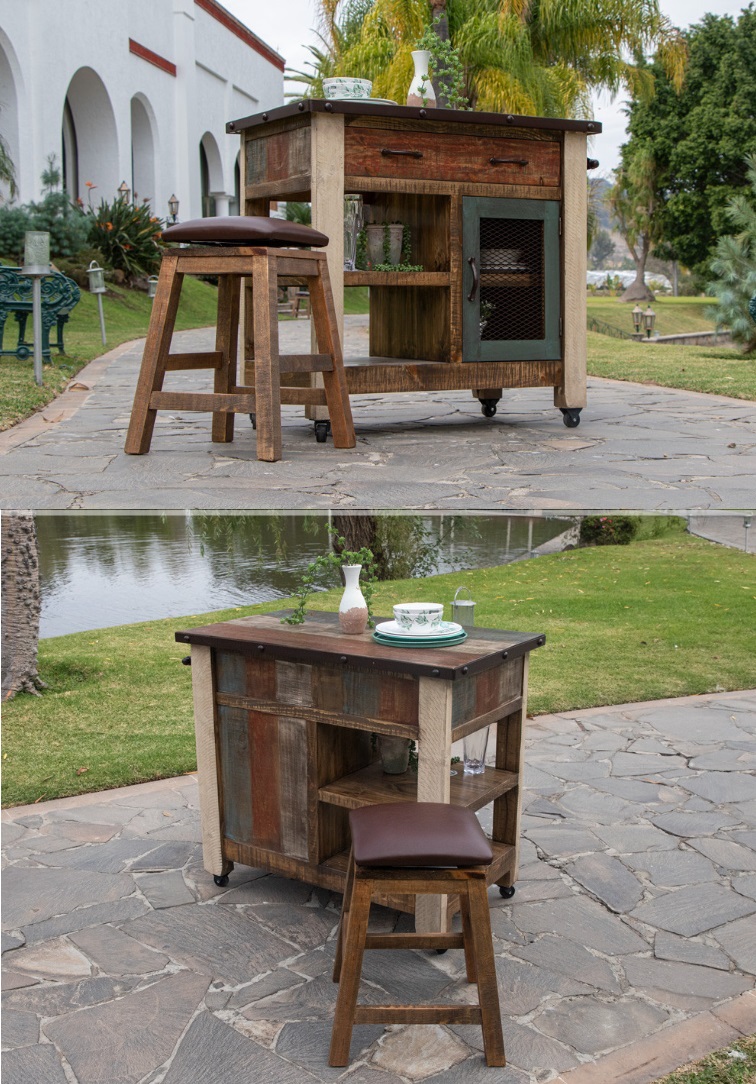 Antique Multicolor 9671KSL Small Kitchen Island
Island
39 1/4 x 23 x 35 1/4
*
$899
Solid Wood and Faux Leather Swivel Barstool
$229
Collection made of real wood rough sawn to Simulate Barnwood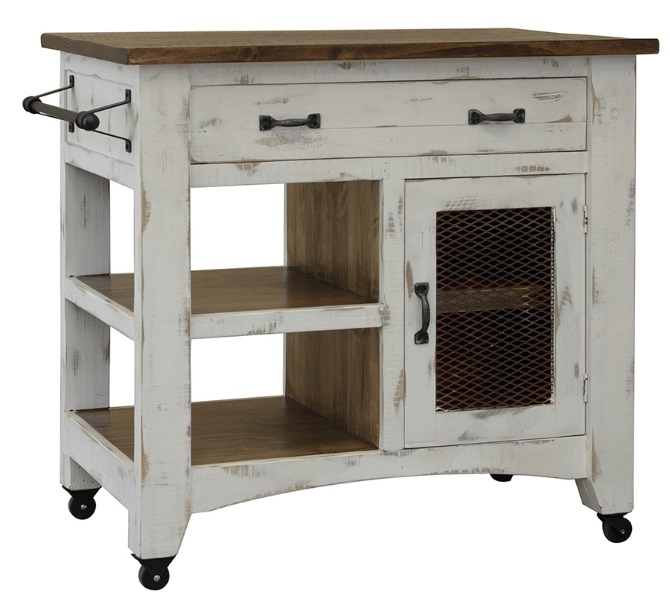 Pueblo 3601KSL Small Kitchen Island
Island
39 1/4 x 23 x 35 1/4
*
$999
Solid Wood Bar Chair (See larger island picture for image)
$199
Collection made of real wood rough sawn to Simulate Barnwood
Stone 4691KSL Small Kitchen Island
Island
39 1/4 x 23 x 35 1/4
*
$999
Solid Wood Bar Chair (See larger island picture for image)
$199
Collection made of real wood rough sawn to Simulate Barnwood
Artisan Solid Wood Bar Tables
Pueblo Gray 3401 Bar Island
Island
76 x 26.5 x 42
*
$1599
Solid Wood Bar Chair
$199
Collection made of real wood rough sawn to Simulate Barnwood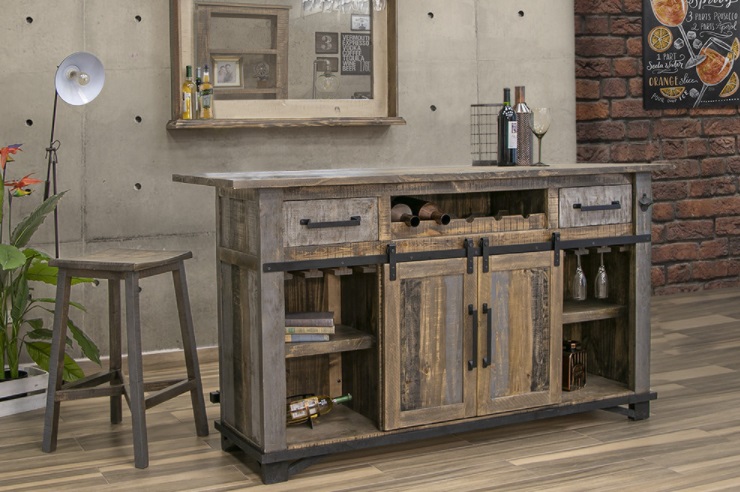 Brown Loft 6441 Bar Island
Island
76 x 26.5 x 42
*
$1599
Solid Wood Bar Chair
$199
Collection made of real wood rough sawn to Simulate Barnwood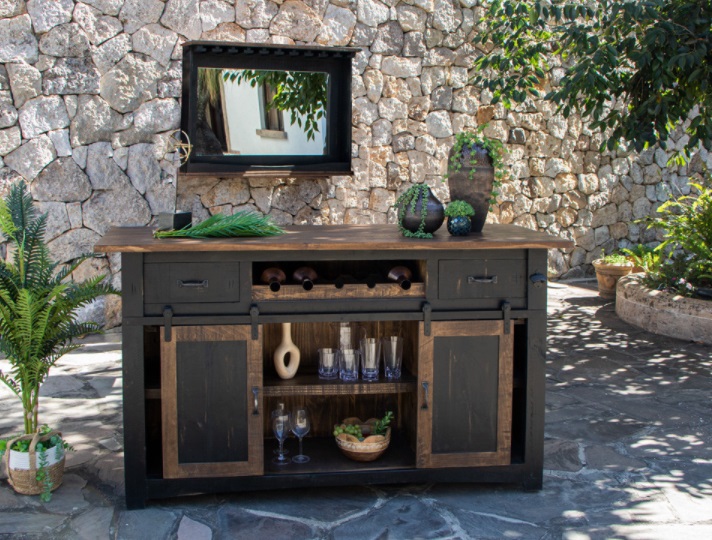 Pueblo Black 370 Bar Island
Island
76 x 26.5 x 42
*
$1599
Solid Wood Bar Chair
$199
Collection made of real wood rough sawn to Simulate Barnwood
Pueblo White 360 Bar Island
Island
76 x 26.5 x 42
*
$1599
Solid Wood Bar Chair
$199
Collection made of real wood rough sawn to Simulate Barnwood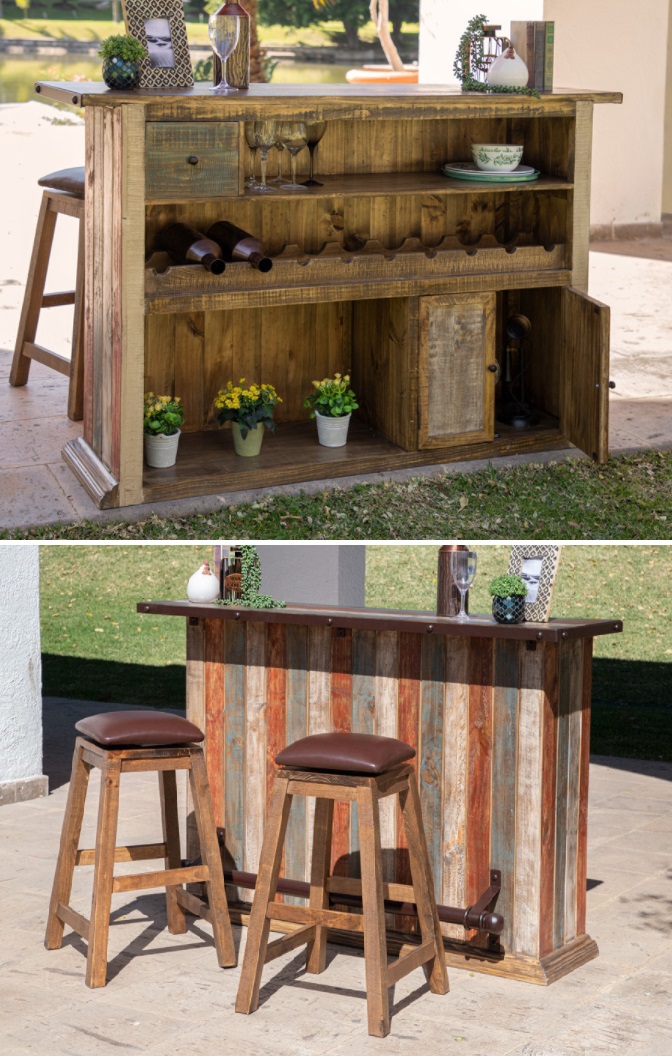 Multicolor 967 Antique Bar Island
Padded Swivel Bar Stool
$199

Collection made of real wood rough sawn to Simulate Barnwood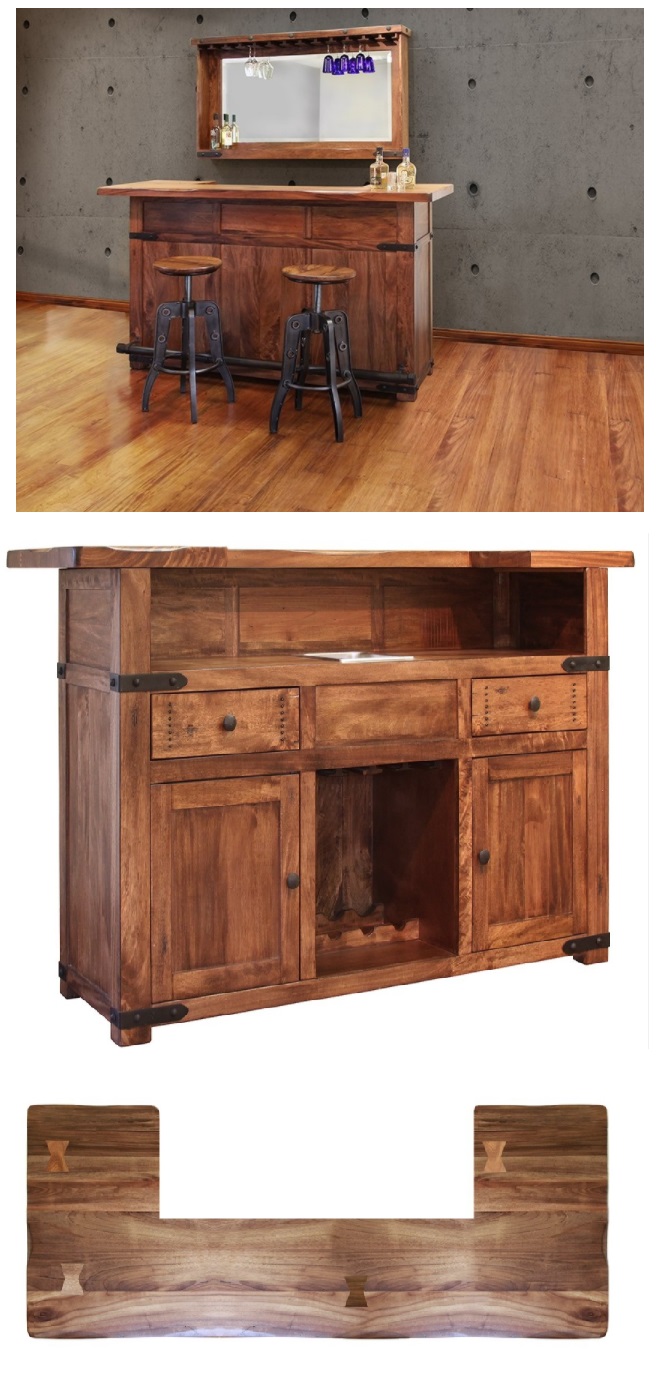 Parota U Shape Top 866 Bar Island
Island
66 x 25 x 41
*
$1649
Solid Wood and Metal Swivel $249
Collection made of Hardwood