Mayo 3180 Sofa Collection
Mayo Furniture offers top-of-the-line premium leathers completely produced in the USA and solid
hardwood foundations assembled in the USA backed with lifetime warranties and great customer service.
The collections seen below are customizable with over 50 different fabric and leather combinations.
Visit Bradley's Furniture to see the wide variety of options!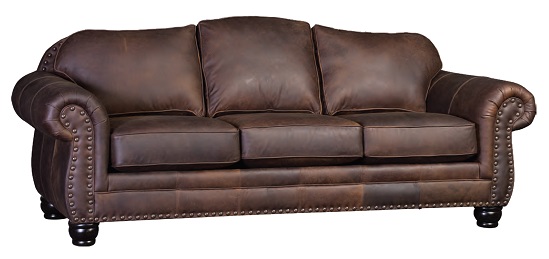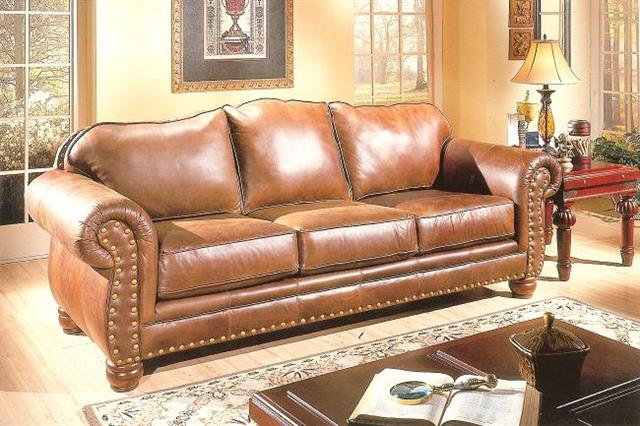 #3180L Tenby Havana Bison (Top)
Vachetta Walnut or
100% Top Grain Pullup Leather
96"w Sofa Suggested MSRP Pricing $3849 Special Sale Pricing $2369

73"w Love MSRP $3729 Special Sale Pricing $2269
47.5"w Chair MSRP $2439 Special Sale Pricing $1469
31"x 24" Ottoman MSRP $1009 Special Sale Pricing $699
On Display Now! -Married in Edinburg, El Paso Saddle (Shown Below), and Laredo Leathers for additional savings off of grade price.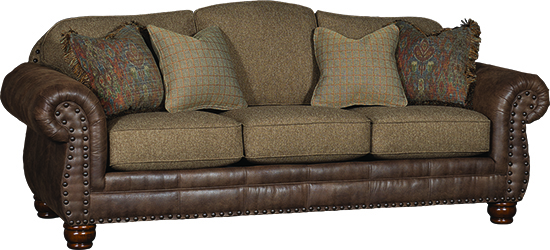 #3180LF Sofa
- Blakely Bark/Vagabond Elk Distressed Microfiber
96"w Sofa
MSRP $2499
Special Married Pricing $1369
73"w Love MSRP $2449 Special Married Pricing $1329
47.5"w Chair MSRP $1639 Special Married Pricing $899
31"x 24" Ottoman MSRP $1049 Married Pricing $579
Married Pricing Includes all pillows and Nailheads as shown. Also married in Desiree Sand/Vagabond Brandy and Tiberius Pecan/Omaha Slicker Leather for $400 more per Piece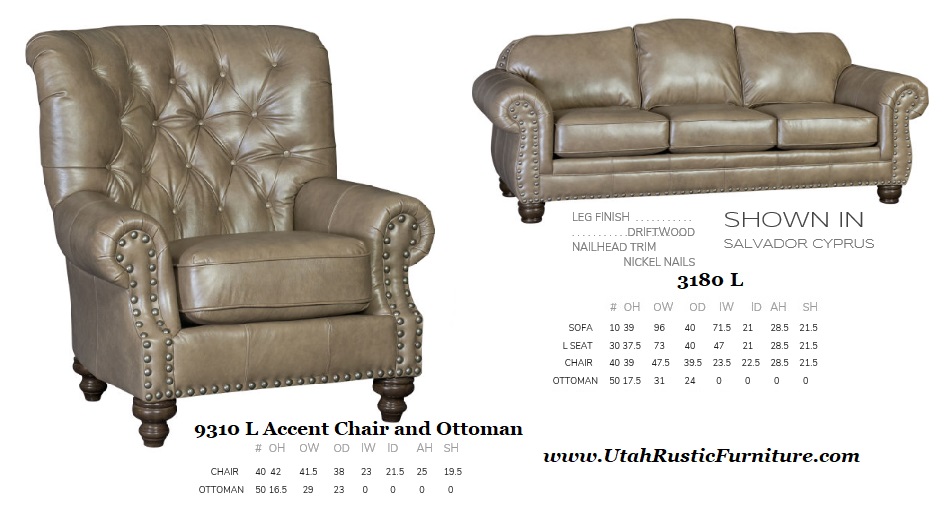 #4290L Salvador Flannel 100% Top Grain Leather
86.5"w Sofa
MSRP $3589
Sale Price $2399
63"w Love MSRP $3489 Sale Price $2329
40.5"w Chair MSRP $2229 Sale Price $1539
27"x 21" Ottoman MSRP $1079 Sale Price $749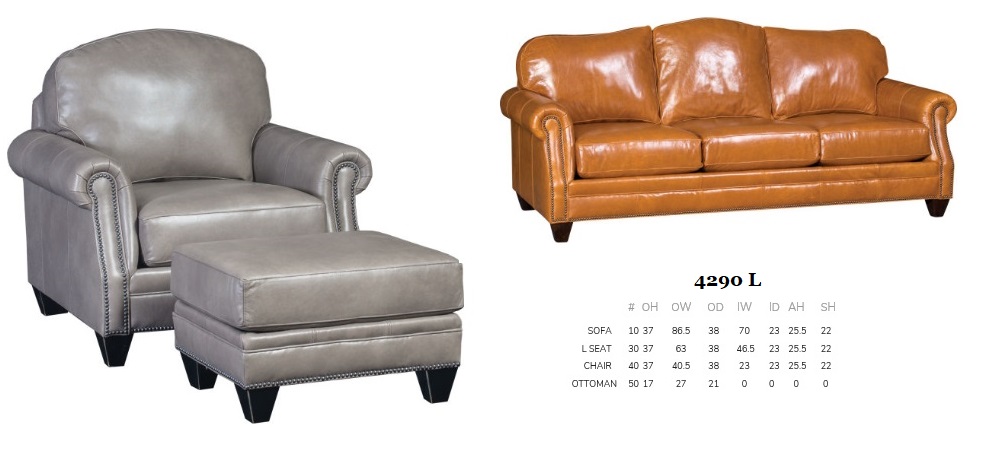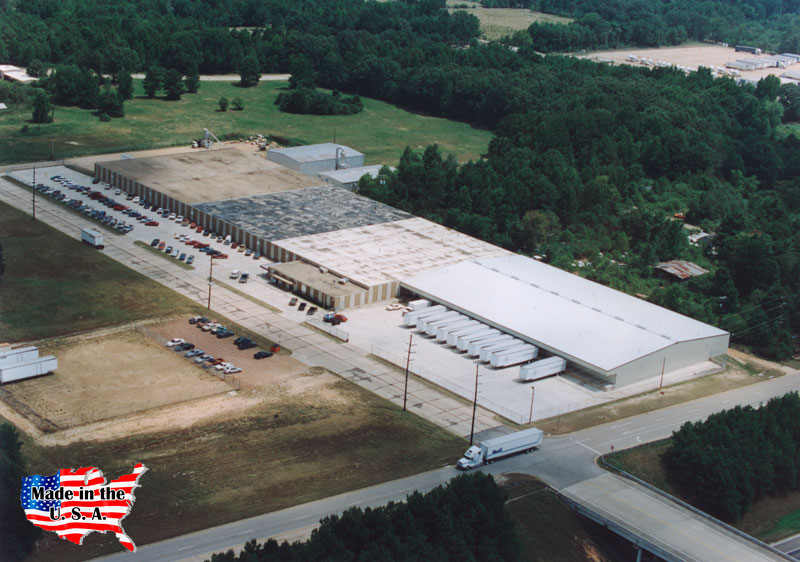 Mayo produces a full line of fabric, leather, leather-fabric sofas, loveseats, chairs, ottomans and sleepers. Since its founding in 1965 the company has been owned and operated by the Mayo family. The Mayo product line is manufactured in a 156,000 sq. ft. modern, well equipped plant which includes state-of-the-art manufacturing equipment.
From the product development center, to the upholstery production area, you'll find an old fashion spirit of pride and quality craftsmanship. This is evident among all Mayo associates as they shape and mold a finished product that will ultimately warm the living rooms and dens of homes across the country.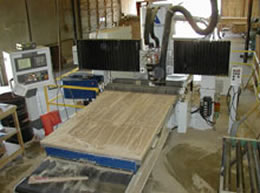 Precision cut Hardwood frames using
state-of-the-art
CNC routing equipment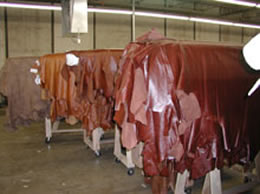 Leather cut and sewn in Mayo's factory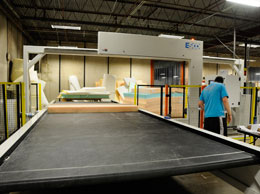 Hi-Density Polyurethane foam being cut
for seat cushion use
Precision cut fabrics using
state-of-the-art computerized
cutting equipment - Lectra Fabric Cutter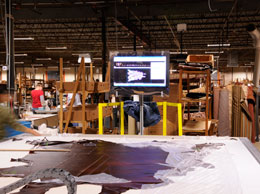 Leather being cut on automated cutter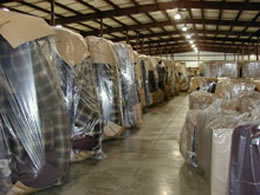 We ship FAST! Expect deliveries
between 20 & 40 days!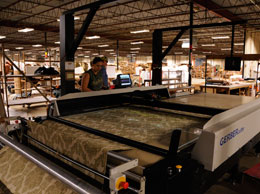 Precision cut fabrics using
state-of-the-art computerized
cutting equipment - Gerber Fabric Cutter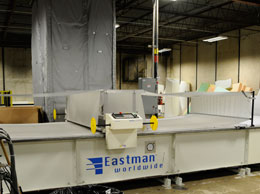 Polyester fiber being cut on automated cutter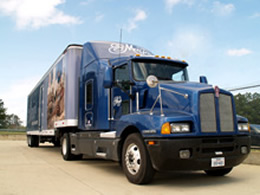 Bradley's Furniture ships Mayo Nationwide at great shipping rates!