Millennium Signature Design B251 Collection
The B251 Collection by Signature Design features
an unique rough-sawn imitation wood
laminate veneer finish over MDF backing

.
The beauty of the Vintage Aged brown staining flowing over a replicated oak grain along with the case pilaster detailing and warm pewter color hardware make the "Juararo" bedroom collection the perfect way to create that cottage getaway within the comfort of your home at an inexpensive price point.
Ships within 1-2 weeks.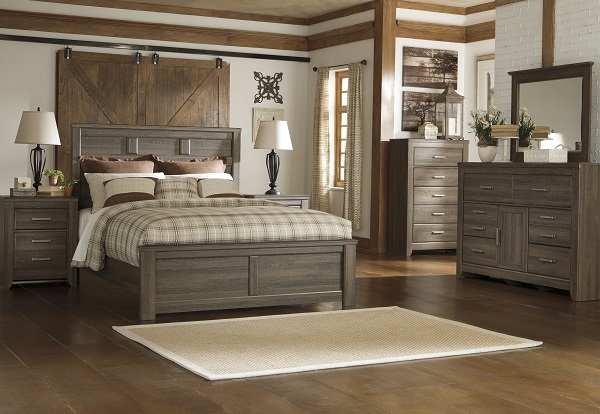 Panel Queen Bed (Shown Above)- 64"w x 91" l x 55" h* (20" footboard) Was $549

Now $399
Panel King Bed - 80"w x 91" l x 57" h (20" footboard) Was $849

Now $599
Panel Cal King Bed - 80"w x 95" l x 57" h (20" footboard) Was $849
Now $599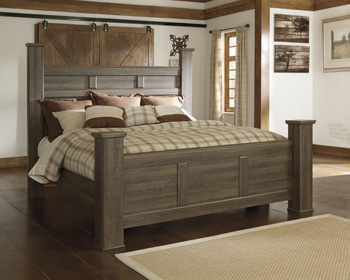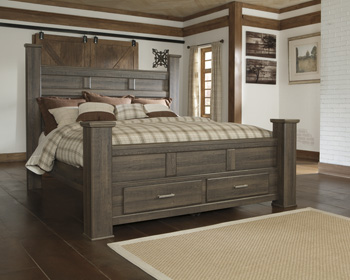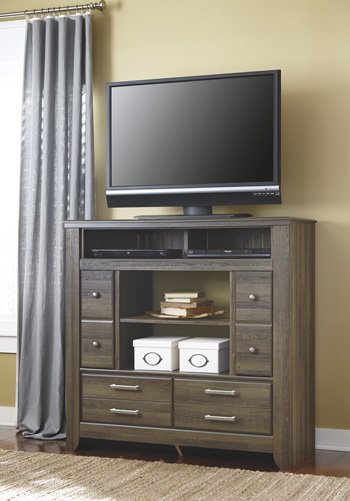 Poster Queen Bed (Shown Left)- 70"w x 94" l x 68" h (34" footboard) Was $649

Now $599
Poster Queen Storage Bed (Shown Right)- 70"w x 94" l x 68" h (34" footboard) Was $799 Now $699

Poster King Bed - 87"w x 94" l x 68" h (34" footboard) Was $849

Now $649
Poster King Storage Bed - 87"w x 94" l x 68" h (34" footboard) Was $1049 Now $779

Poster Cal King Bed - 87"w x 98" l x 68" h (34" footboard) Was $849
Now $649
Poster Cal King Storage Bed - 87"w x 98" l x 68" h (34" footboard) Was $1049
Now $779
2 Drawer Nightstand (Shown Above) - 25"w x 16" d x 30" h* -Was $299
Now $179
5 Drawer Chest of Drawers
(Shown Above)

- 35"w x 16" d x 55" h* -Was $549
Now $449
6 Drawer/1 Door Dresser
(Shown Above)

- 62"w x 16" d x 43" h* -Was $699
Now $529
Mirror
(Shown Above)

- 40"w x 3" d x 33" h* -Was $149
Now $119
3 Drawer Media Chest
(Shown Top)

- 45"w x 20" d x 44" h* -Was $599
Now $439
6 Drawer Media Chest
w/Shelves or Optional Fire Place Insert*
- 48"w x 20" d x 45" h* -Was $499
Now $529

(*Extra Charge to include the Fire Place)


Email
orders@utahrusticfurniture.com
for quotes.
*Dimensions are Manufacture Approximates