Millennium Signature Design B520 Collection
The B520 Collection by Signature Design features
well-built bedroom furniture at great price points
.
This model is currently on display and on promotion at our
Salt Lake City showroom. We stock the bed in the Queen (King Discontinued) along with nightstands,
chests, and dressers.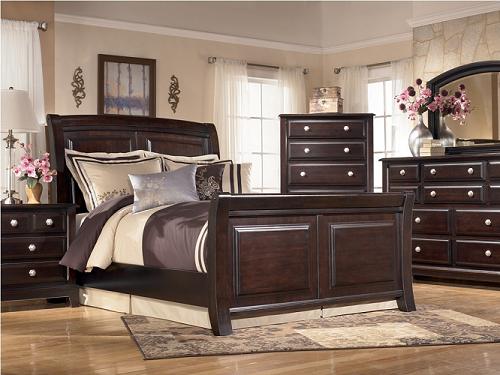 B520 - Rigdley Expresso Sleigh Bedroom Set - Closeout Sale
Queen Bed - 65"w x 94" l x 57" h (32" footboard) - 296 lbs Was $749 Queen 5 Piece Set $1799 - Includes Dresser, Chest, 2 Nightstands, and Queen Complete Bed

(Queen Bed cannot be purchased seperately)
King and Cal King Disc.
Nightstand - 28"w x 17" d x 30" h - 69 lbs Was $499
Now $399
Chest of Drawers - 40"w x 19" d x 58" h - 142 lbs Was $699
Now $579
Dresser - 64"w x 19" d x 45" h - 180 lbs Was $799
Now $649
Mirror - 46"w x 2" d x 32" h - 40 lbs Was $199
Disc - Check Stock $149