Benchcraft Signature Design
#319/800/487 Larkinhurst Distressed Microfiber
- Avail. in 4 Colors (and 1 Top Grain Leather Match #
326)
Option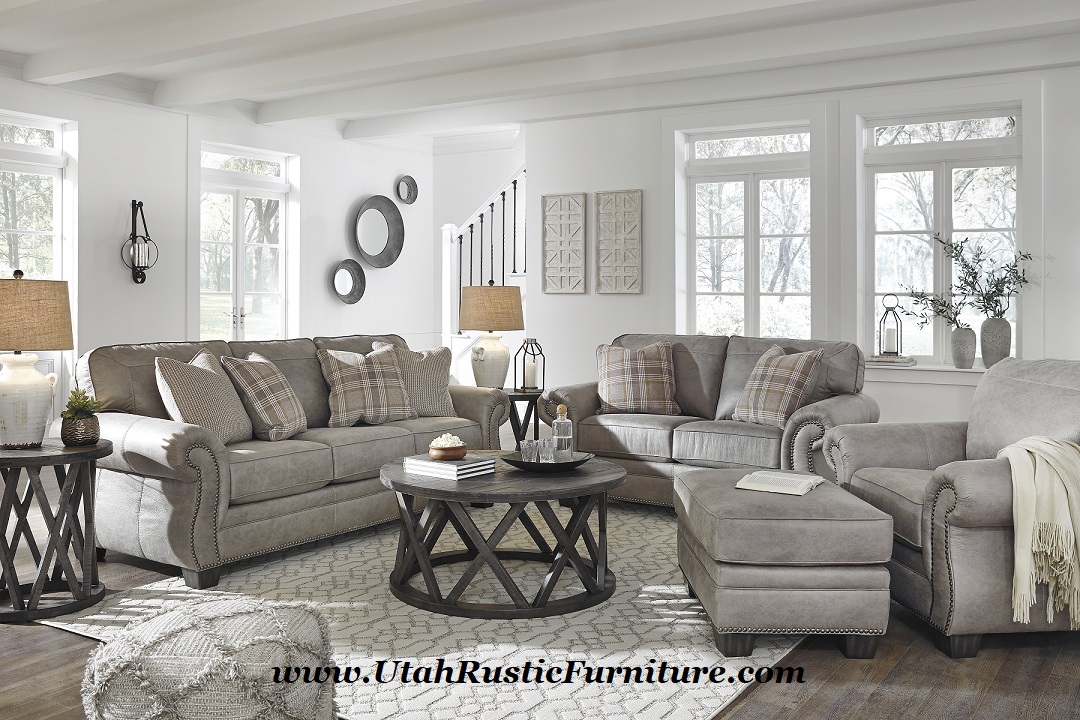 Light Grey Steel #487 - Shown with T711 Cocktail and End Table
The Larkinhurst Collection by Benchcraft offers a cutting edge Distressed Microfiber designed to look like leather and providing easy clean-up against everyday family spills and stains!
With an elegant flowing design featuring rich upholstery and exquisite detailing, the Larkinhurst upholstery collection captures the true beauty of grand traditional styled/rustic furniture. The
wood frames features a limited lifetime warranty and the support bracing is glued, blocked, and stapled for extremely long life. The c
oil seating has individually pocketed coils to create uniformed shape and consistent support for durable seating comfort. The sleeper features an easy to lift mechanism and a Memory Foam mattress. Available in Earth Medium Brown "Earth" #319, Charcoal #80004, Espresso #80003, and new for 2020 Light Grey Steel #487 and top grain leather match #326 (Add $300 Not Avail. in a Sleeper)

Sofa
NOW $999
Queen Sleeper w/Memory Foam Mattress

NOW $1299

89" W x 41" D x 38" H
Loveseat
NOW $949
66" W x 41" D x 38" H
Rocker Recliner
NOW $649
43" W x 40" D x 40" H
Chair (Only in Light Grey Steel)
NOW $699
44
" W x 38" D x 38" H
Ottoman (Only in Light Grey Steel)
NOW $399
33" W x 23" D x 19" H
Accent Chair (Matches Pillow of Espresso and Charcoal)
NOW $549
36" W x 37" D x 37" H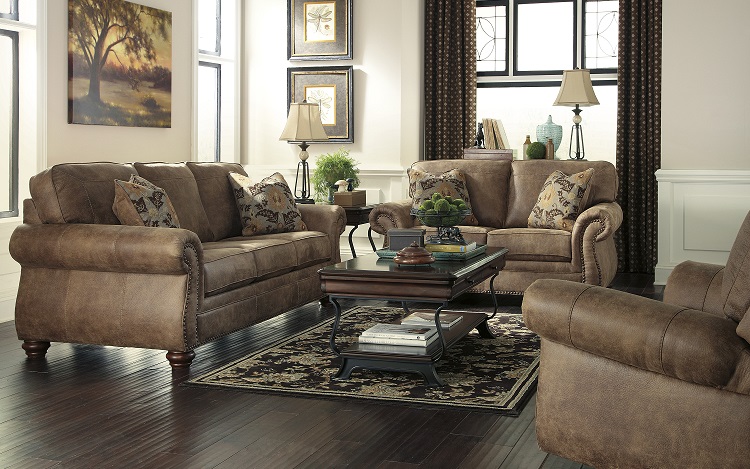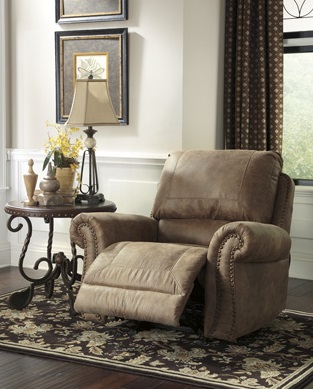 Medium Brown "Earth" #319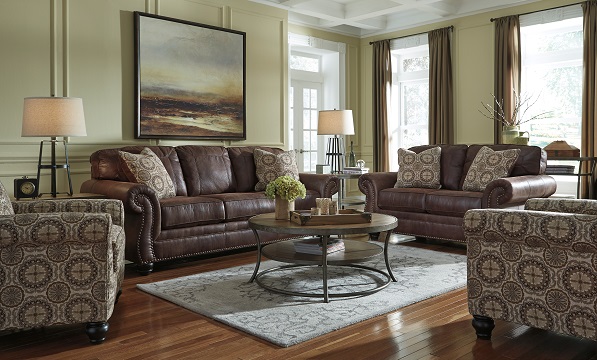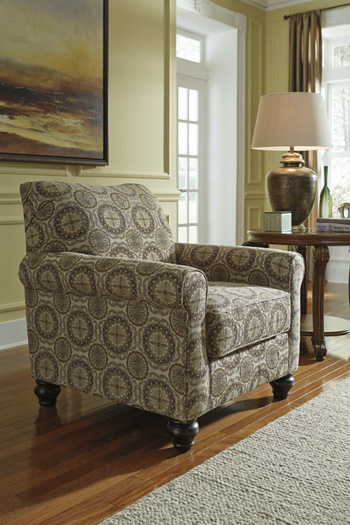 Espresso #80003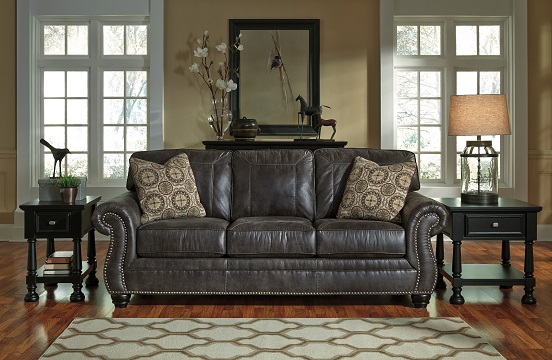 Charcoal #80004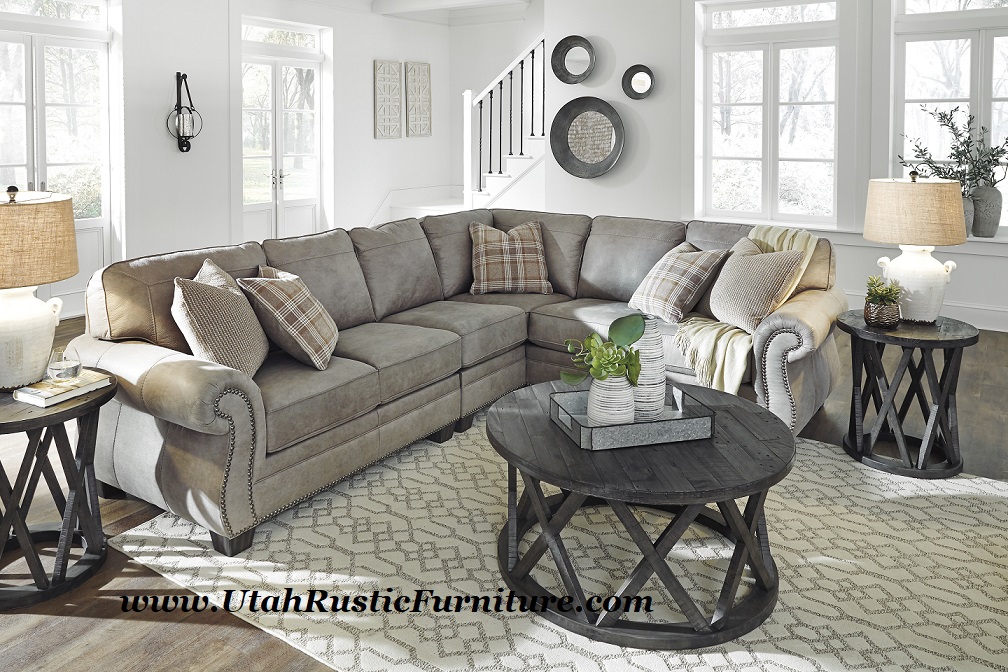 2 or 3 Piece Sectional (Only in Light Grey Steel)
As Shown or Avail. Reveresed
NOW $1899
120" W LAF or RAF x 94" W RAF or LAF x 38" D x 37" H- ~94" Sq if not using the armless chair - Save $200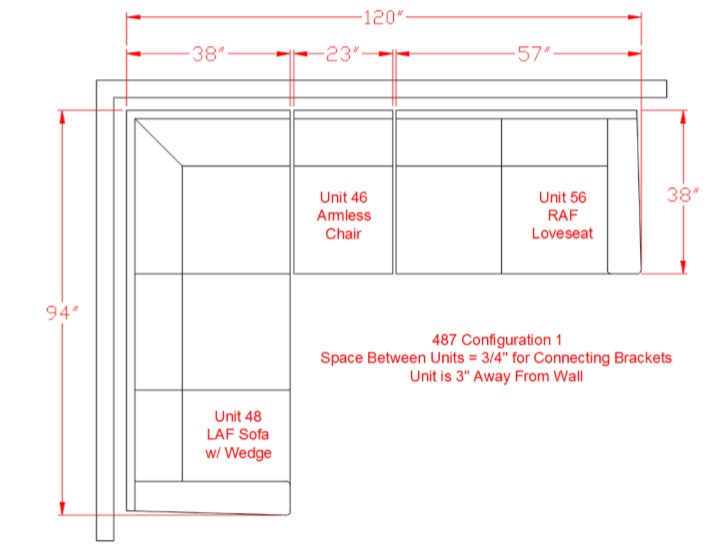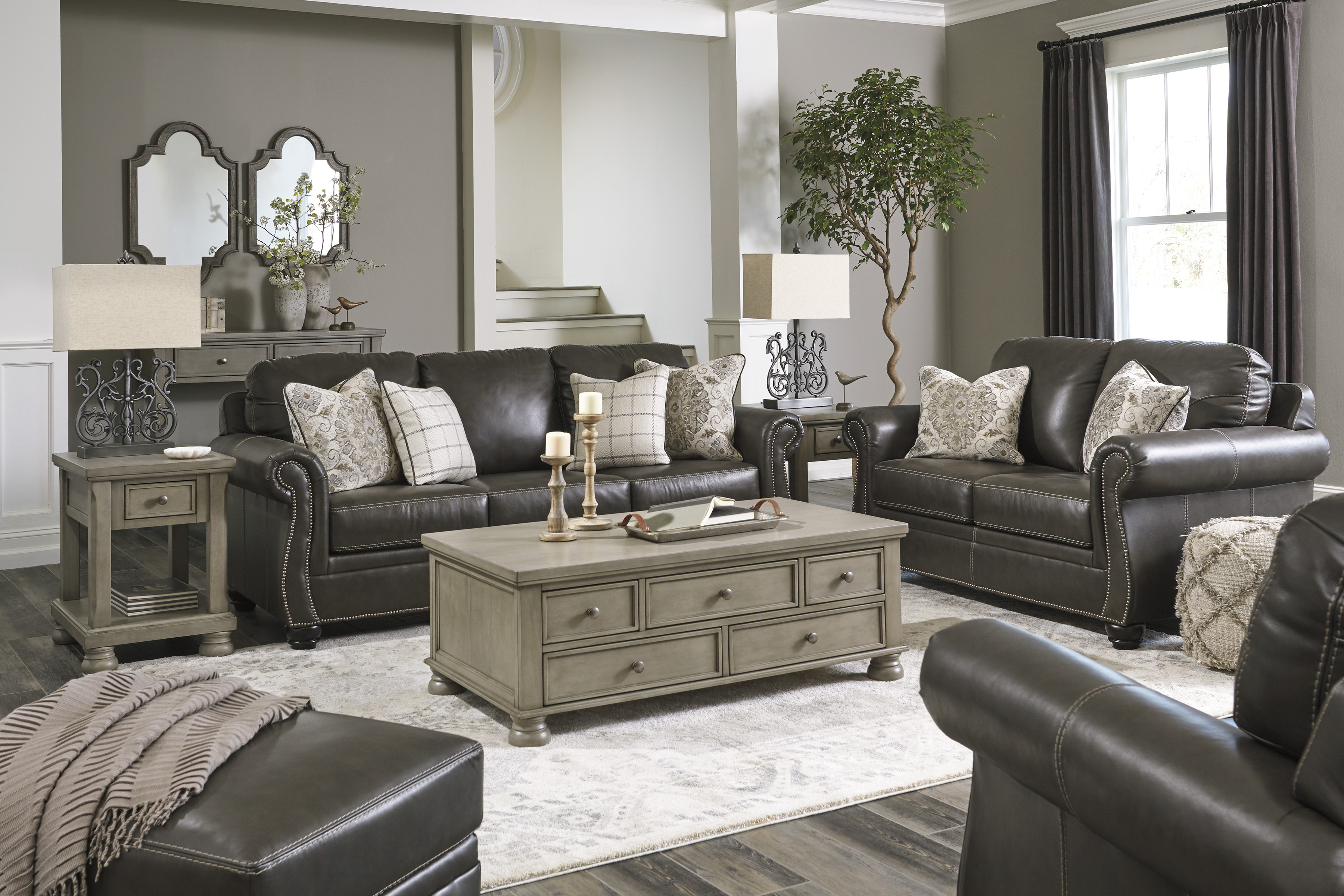 Top Grain Leather Match #326
With sumptuous roll arm styling punctuated with nailhead trim accents, this chair is a new take on traditional furnishings. Rich, dark real leather gracing the seating area has decadently cool and comfortable appeal, while skillfully matched faux leather on the exterior keeps it comfortably priced. Designed for looks and longevity, this chair includes our exclusive platform foundation system made to resist sagging and maintain a tight, wrinkle-free aesthetic. Rest assured, this beautifully styled chair takes a stance that's anything but stuffy. This model does not contain the cushion springs as do the microfiber options.
Sofa
NOW $1499
(NA in Sleeper)
87" W x 39" D x 39" H
Loveseat
NOW $1449
64" W x 39" D x 39" H
Rocker Recliner
NOW $999
43" W x 40" D x 40" H
Chair
NOW $839
41
" W x 39" D x 39" H
Ottoman
NOW $549
34" W x 23" D x 20" H
THIS LEATHER SET IS DISCONTINUED - CHECK STOCK BEFORE PLACING ORDER